This plugin is an extension for Tevolution. With it you can enable the EBS payment gateway; a solution popular in India.
How does EBS work?
Customer select and adds item in the shopping cart And places the order on your (merchant) website.
Customer selects to pay via credit card .
Customer is redirected through EBS Payment Gateway to Transaction Processing Bank.
Customer enters credit card details on Secured Payment page.
Credit card information is transmitted securely to the corresponding bank for approval.
Corresponding bank sends appropriate information to the transaction Processing bank .
The result is forwarded to EBS (via the Transaction Processing Bank).
Customer receives a confirmation and is redirected to your (merchant) website.
Why EBS?
EBS has a goal of being a distinctive model – a business truly focused on providing a professional, consultative & merchant-centric payment processing service and endeavour to benefit from quality over quantity.
Ease of integration, User Friendly interface to acquire online payments, World Class Security systems, Risk Monitoring on an ongoing basis, Smooth reconciliation, Multiple Payment Options on single platform are some of the essential features made available by EBS to Merchants, for a smooth E-commerce experience.
EBS has been certified for PCI DSS 2.0 Level 1 compliance and awarded ISO 27001 Compliance Certification for Information Security Management Systems (ISMS). These achievements will ensure interests of both the merchant as well as its clients are safeguarded.
Ready to sign up with EBS? Get EBS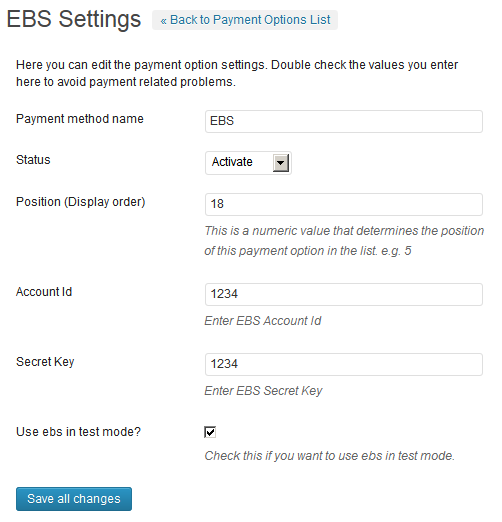 back-end options panel
Contact Us and learn more about this add-on.